CASAREVO Home Interiors, doors, shutters, ceiling panels and Screens
CASAREVO products can be purchased directly online via our shop, or can be custom made to your exact requirements. We add to our portfolio of products on a daily basis, so if the individual design option you require is not online we can create that CASAREVO product for you to view and consider within 24 hours.
Currently the CASAREVO design range includes COVID Screens and COVID partitions; a premium range of high quality room dividers and room partitions in a wide range of materials and finishes; off the shelf mdf screens and panels; amazing radiator covers and cabinets; and best of all a range of custom made interior doors suitable for pocket or sliding door systems, wardrobe doors, shutters and much more.
Interior side screen dividers
CASAREVO side screen dividers are perfect for creating space definition in the home. Our side screen dividers can be fixed easily into alcoves or recesses, or simply against a flat wall in any home or retail interior. Separate living areas from dining areas, kitchen areas from study rooms, the choices are endless. Available in 100s of patterns and room styles to suit your interior style needs.

---
Bespoke CNC machining and fabrication

---
Decorative fretwork window shutters
Our MDF window shutters are custom made to your exact size to ensure they fit perfectly every time. Simply send us your dimensions, together with a picture of your existing windows, and our design team will assist in selecting the best window shutter options for your needs.

---
High quality room dividers and hardwood room partitions
One of the UKs leading manufacturers and designers of interior room partitions and room dividers.
Part of the same group as Lasercutscreens.co.uk, our high quality room partitions are modular, can be fitted easily in any interior space, and most of all look amazing when installed.
Made to measure room dividers in a huge range of colours and finishes to suit any interior decor setting.

---
COVID Screens
Our popular room partitions can also be incorporated into amazing COVID screens by incorporating glass infill panels into the modular frames. Perfect for hairdressing salons, bars and restaurants, hotels and reception areas, retail and commercial outlets where COVID screening is required. A high quality COVID Screen system custom made in the UK to your exact sizes, patterns and colours. You can even create your own designs to match your company logo.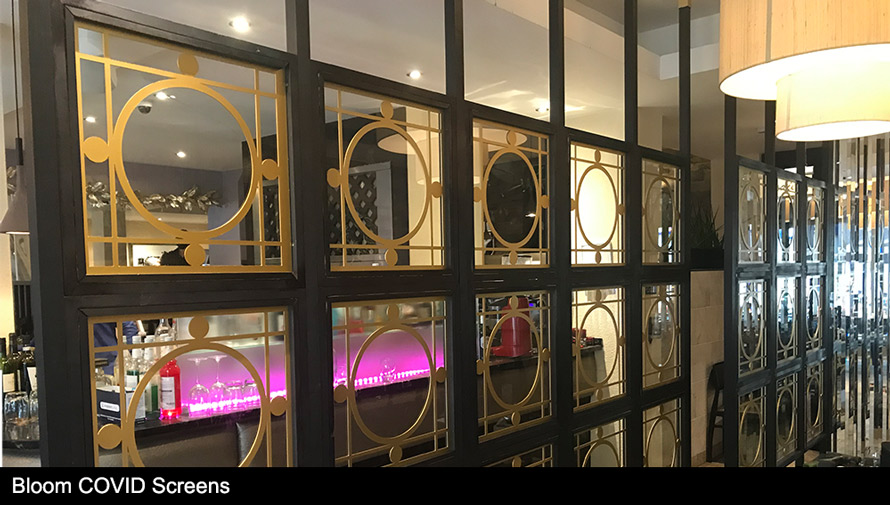 ---
Amazing offset Ceiling panels and screens
You can now create amazing offset ceilings with our brand new range of ceiling panels. Available in Arabic, Moroccan, Art Deco, Floral, Geometric and Modern patterns styles.

---
---
Decorative wall and ceiling panels
Create your own 3D wall art or 3D ceiling art by fixing our amazing 3d MDF wall and ceiling panels to your existing wall.
Large MDF Fretwork panels in modern and Islamic inspired designs
We offer a wide selection of large interior MDF panels which are manufactured entirely in the UK, often to your exact size and specification. We are adding to our portfolio of patterns on a regular basis so bookmark this page, and contact the design team with your pattern ideas.
---
Transform your bedroom with bespoke mirrored wardrobe doors

---
Custom made high quality radiator covers in metal, hardwood and MDF

---
Create amazing ceiling and wall designs with our custom mdf panels

---
Custom spray painting for jobs large or small
With our own in house spraybooth we can create high quality paint and metal finishes on a wide range on materials, including antique brass, antique copper, bronze and much more.
We can also stain and lacquer different materials such as wood and MDF.

---
Contact the design team
For information on the wide range of products we can create, please contact the design team by filling in the form below, and one of our team will contact you at the earliest opportunity.
---
---
Latest posts for all CASAREVO Products
---