Decorative partition designs. Metal and MDF fretwork patterns for Interior Doors, room dividers, wall panels, window shutters custom made.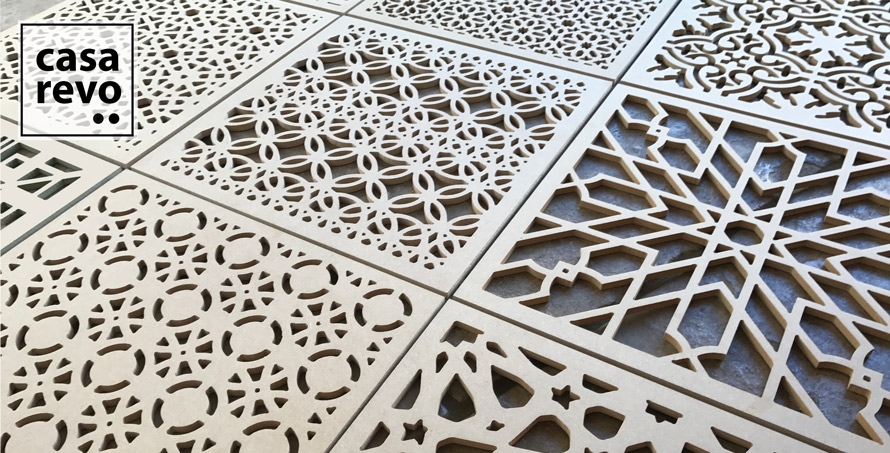 CASAREVO are delighted to launch a range of solid hardwood and interior MDF products for the home, hotel, restaurant and retail industries.
All available to purchase in our online shop, every CASAREVO design is manufactured to the highest standards, and allows you to create amazing new interior spaces and projects.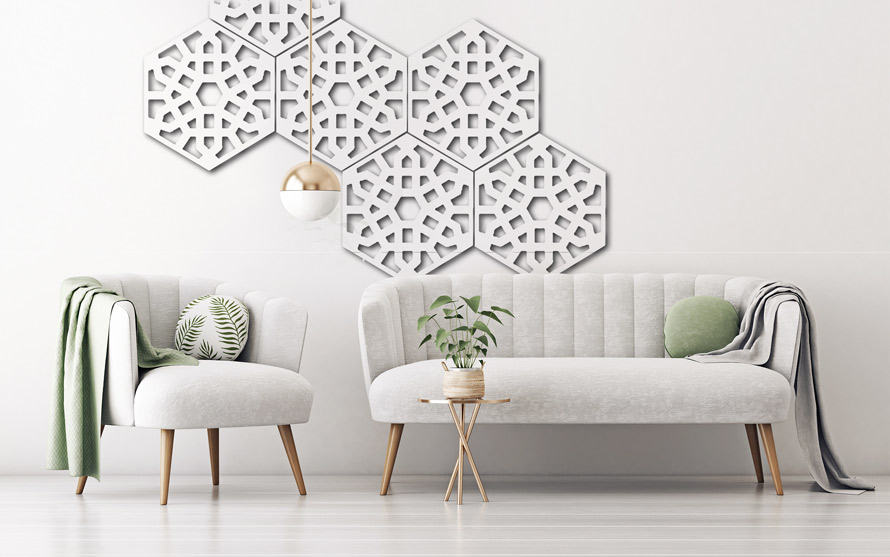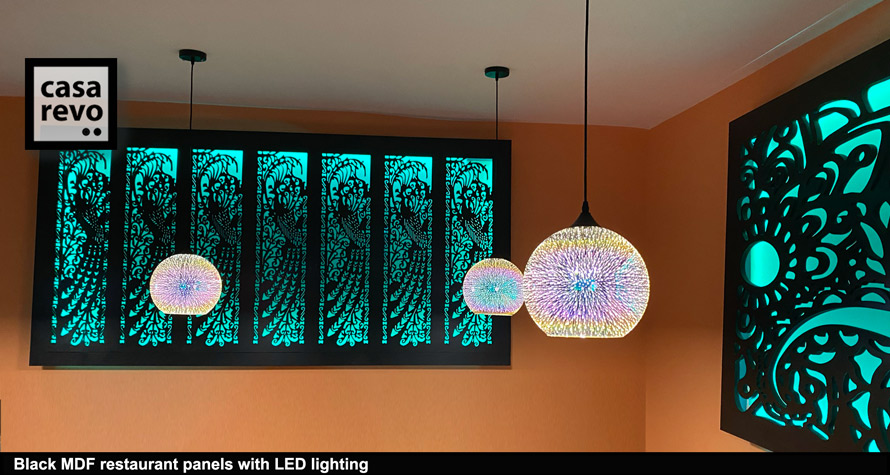 BEAUTIFUL FRETWORK WINDOW SHUTTERS IN MODERN DESIGNS
Amazing new range of MDF window shutters in popular Arabic or Islamic inspired designs, Art Deco themes, Floral patterns, Geometric designs and many more.
All window shutters are custom made here in the UK to your exact size.

INTERIOR ROOM DIVIDERS AND ROOM PARTITIONS
Beautiful hardwood room dividers and interior space dividers in your favourite pattern. Available in many metallic and painted finishes, accentuate your room with our amazing room partitions in modern Arabic, Moroccan, Islamic inspired, Art Deco, geometric patterns and more besides.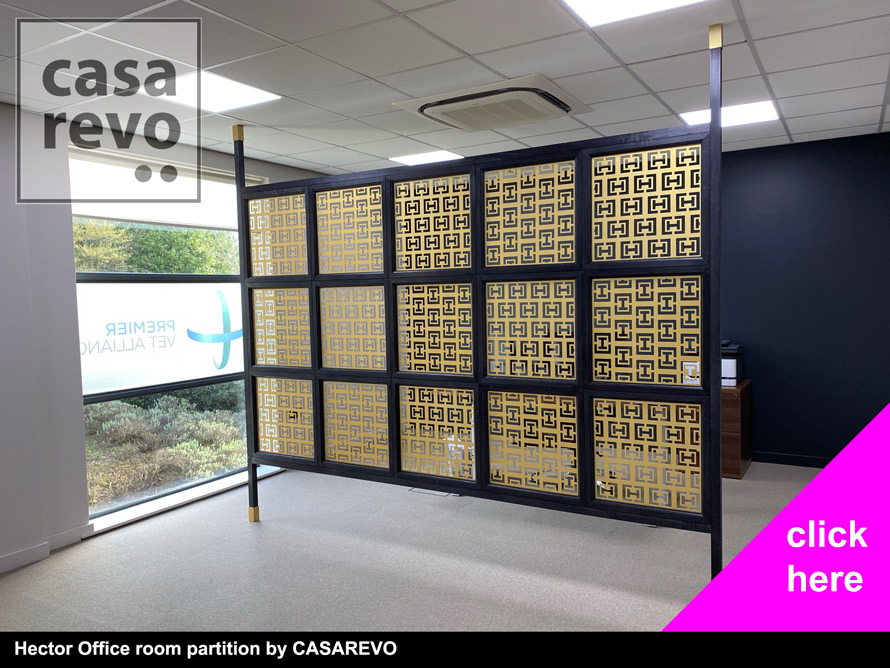 COVID SCREENS
All CASAREVO hardwood room partitions and dividers can be glazed and therefore perfect as COVID screens to divide spaces in hairdressing salons, cafeterias, Mosques and Synagogues, bars and restaurants, shops and galleries, hotels, veterinary practices and any location where COVID distance is required.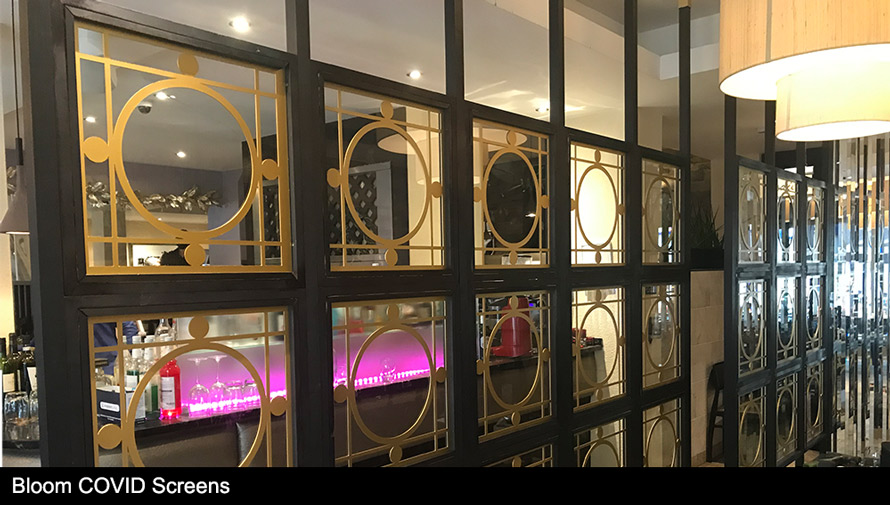 SLIDING DOORS
Beautiful sliding door designs which include Glass and hardwood options in a Japanese slatted style.
We can also make sliding doors in any of our many modern, Arabic, Moroccan, Art Deco and Geometric styles. Door styles include bi fold and sequential sliding doors. For more information please contact the design team for the many door options available.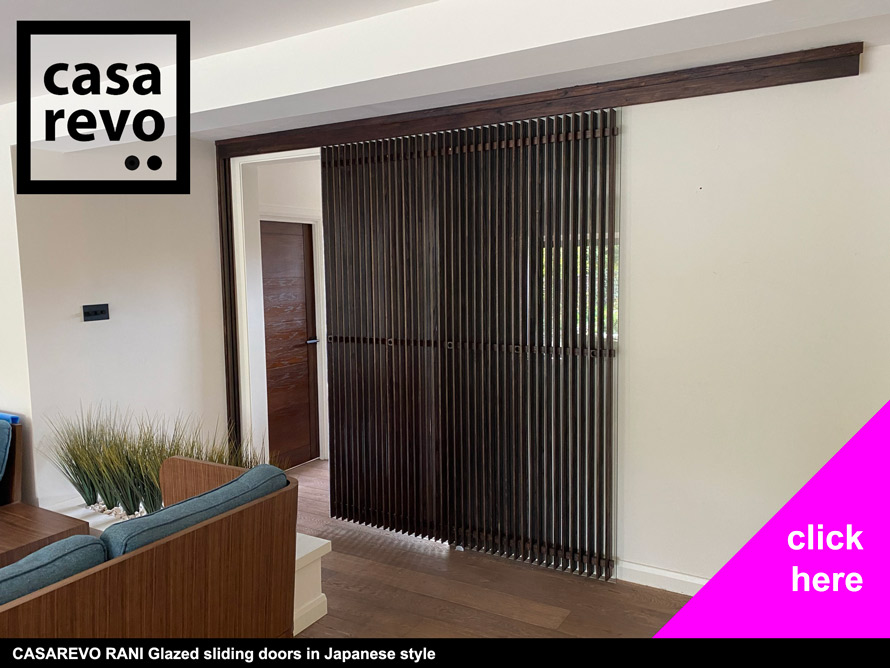 SIDE SCREEN ROOM DIVIDERS
Perfect for alcoves, recesses and room areas between living room and dining room, our side screen room dividers enable you to enhance your interior design style by incorporating pattern designs such as modern floral patterns, Moroccan and Arabic inspired designs, Art Deco, geometric patterns and many more.

MIRRORED WARDROBE DOORS
All our wardrobe doors are custom made to your size and colour. Mirrors are optional should you require the beautiful open fretwork effect.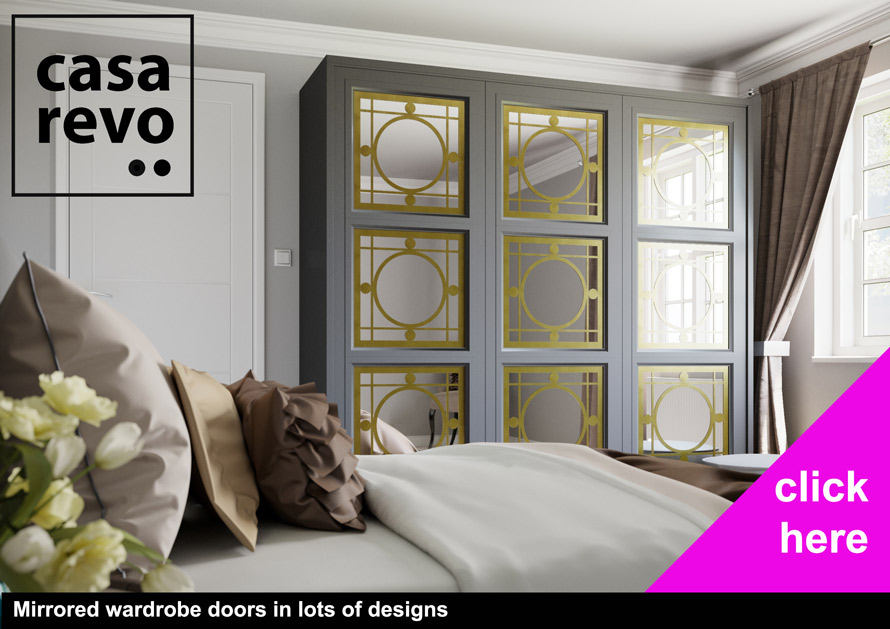 Decorative Ceiling Panels in lots of patterns
Perfect for hiding unsightly lighting or add LED light strips for that extra special effect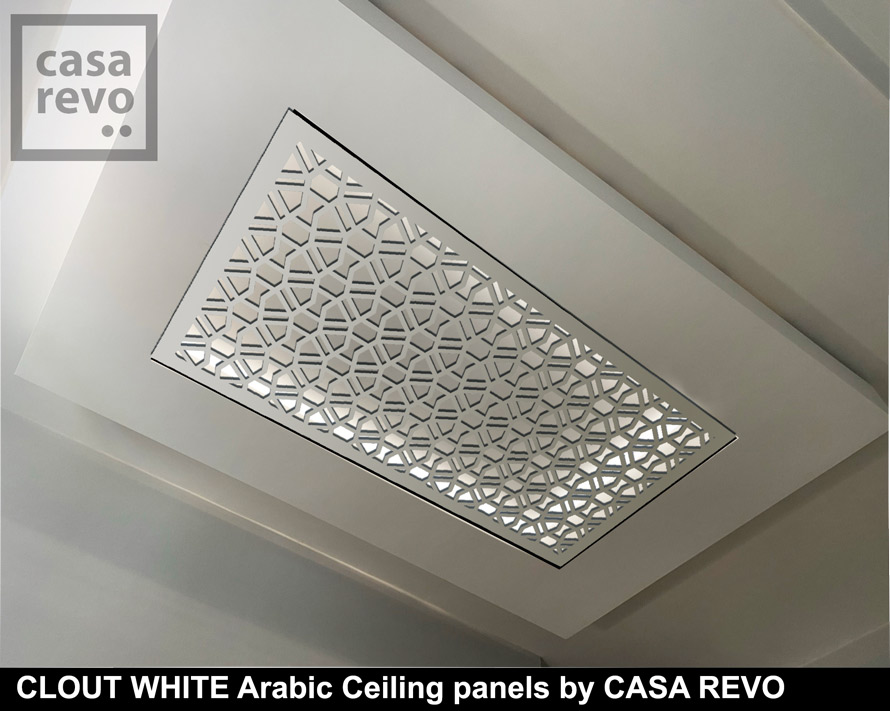 MDF 8 PANEL SHEET PATTERNS
Many of our most popular patterns are now available in unfinished moisture resistant MDF. We realise that for some jobs only MDF will do, so we have selected fretwork patterns and ornate mdf panel designs that can be delivered direct to your door via courier (or self collection if you prefer). Available in standard and non standard sizes, the pattern scales are restricted to a more open scale than can be achieved in metal in order for you to spray paint or finish the MDF as you require. Please note we do not offer a painting or finishing service for any large MDF screen. Please contact the design team for more information.
All our 8 panel MDF sheets can be found IN THIS GALLERY
MDF LARGE SHEET PATTERNS
The largest range of MDF patterns anywhere.  Perfect for room partitions and room dividers.
MDF GROOVED LARGE PANELS
All of your most popular patterns in one place IN THIS GALLERY, with the addition of a beautiful grooved detail to accentuate the pattern and create that extra level of quality
Click on the image below to view pricing for all MDF Large fretwork panels

NEW LAMINATE COVERED MDF PANELS
We are delighted to offer all our screens as laminate options on an MDF base core. The base core can be black, grey, yellow and  a further small selection of other colours when available.
Talk to one of our design team who can advise on the many laminate options available such as brass, bronze, copper, stone and marble effects. Please note there may be a minimum spend required on this option dependant on laminate selected.
NEW MINARET SCREENS
Perfect for places of worship such as Mosques, prayer rooms, mihrabs as well as creating wonderful arches in alcoves and room interiors.
We can incorporate any of our patterns within the minaret outline, either plain cut or grooved and plain cut.
NEW MDF BORDERS AND INLAYS
We can create MDF panels as border frames for mirrors or for simple decorative purposes. Simply choose a pattern from our pattern library, choose whether you require plain cut or grooved detail, and we will create a custom made MDF panel to your exact size and pattern choice.
For more information on MDF Border and Inlay options contact the design team
NEW COMBINATION PATTERN MDF PANELS
Why not choose two MDF patterns and combine them?
You can select any two patterns and combine them to make beautiful wall art. Most patterns from our pattern library (sadly not all) can be combined so one MDF pattern will be the pattern border and the other MDF pattern will be the inlay. To find out which patterns can be used in this combination style please contact the design team.
MDF GROOVED WALL PANELS GALLERY
Our MDF grooved panels can be used to create amazing wall art or decorative ceiling tiles. The additional grooved design provides that extra level of quality and creates a beautiful 3d shadow detail effect to enhance every design.
Available in Moisture Resistant MDF, our MDF panels can be easily secured in place with a suitable adhesive, and painted in a colour of your choosing. Panels are available in 500mm and 600mm square sizes, and mdf material thickness of 12mm.

MDF CEILING PANELS
All patterns can be used to create amazing 3D Ceiling effects. Simply paint the panels and fix in place with adhesive, or fix in place and then paint ceiling and MDF panels together the choice is up to you.
Click here to see the MDF Ceiling Panels Gallery

MDF WALL PANELS
The same patterned panels can also be used on walls to great effect. The 3D MDF wall panels are suitable for any interior setting for the home, hotel, bar or restaurant, mosque or other places of worship.