How to measure and install CASAREVO Ceiling Panels
Installation and measurement of all CASAREVO Ceiling Panels is very easy. Please ensure you follow all the following guidelines correctly. If in doubt please contact the design team who will be able to advise where necessary.
Check your ceiling is level
Whilst it is possible to secure onto ceilings which may not be exactly level, it is always wise to check otherwise some unsightly gaps may appear that may require use of decorators caulk to stop any internal lighting to bleed through unnecessarily.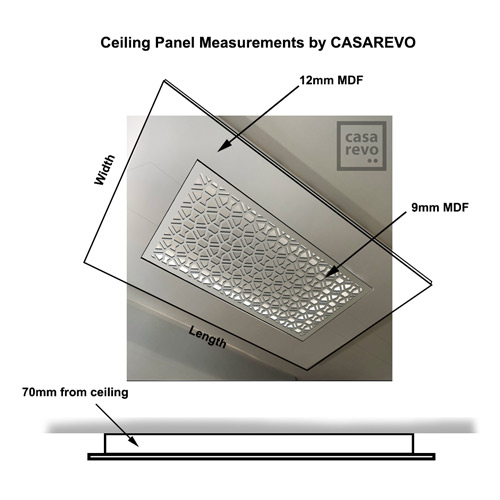 Ceiling Panel sizes
Standard Ceiling Panel dimensions are as follows
80cm wide x 160cm length
100 cm wide x 200cm length
120cm wide x 240cm length
Inner fretwork panel Dimensions and Material
9mm thick Moisture Resistant MDF
Outer Panel Dimensions and Material
12mm thick Moisture Resistant MDF
---
DISCLAIMER
All CASAREVO Ceiling Panels require permanent and secure fixture to ceiling joists or noggins.
CASAREVO Ltd accepts no responsibility whatsoever for any damage to interiors, personal harm or injury TO ANY PERSONS arising from misuse, inappropriate or insecure fixing and location.
Please ensure that all instructions to secure into ceiling are followed correctly. For all ceiling and upper alcove locations ALWAYS secure in place with appropriate screw fixings. Fixing solely to a plasterboard or suspended ceiling IS NOT SUITABLE. YOU MUST SECURE TO CEILING JOISTS OR NOGGINS.
---
How to send us additional information
When ordering you will be asked to provide additional information or your order.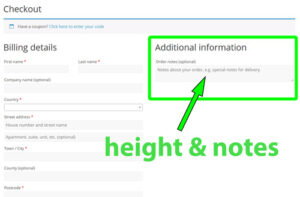 ---
Frequently asked questions
Does the price advertised include postage?
No, all prices shown exclude postage costs.
All postage costs vary as it may cost the same to post two panels at the same time for the same price as one. Customers who wish to collect their products are welcome to do so from NG32 1HQ during normal working hours free of charge.
If in doubt please CONTACT THE DESIGN TEAM
Do you make CASA REVO Ceiling Panels to custom sizes?
Yes we can, please send us your enquiry via the contact page and we will do our best to accommodate your request.
Can you combine different designs and colours to make one CASAREVO Ceiling Panel?
Yes we can, and often at no additional further cost to the original advertised Ceiling Panel price. Contact the design team via the contact page and we will advise on all colour, fretwork pattern and outer frame design options.
Can you make CASAREVO Ceiling panels to my own design?
We will try our best to accommodate your request. Please send us a sketch or an image as an attachment to the email shown on the contact page.
From order how long before my CASAREVO Ceiling Panels arrive?
Typical lead times excluding bank holidays and national holiday are normally 4 working weeks for order. It is always wise however to contact the design team via telephone first for delivery dates.
Do we ship overseas?
Yes, with certain reservations and omissions. Please check with the design team for exact details.