How to measure room dividers and room partitions
The following steps are a simple guide to ensure we manufacture all parts to your exact specification, and when delivered can be installed simply and securely. You can view the installation procedure on the How to install frames and partitions page.
You will need a tape measure, a pencil, a small step ladder, something to write on, optional masking tape to help you visualise on the floor where the frame will be located. Most importantly a second person is required to help double check all measurements, and hold the opposite end of the tape measure either on the floor or ceiling.
During order placement you will provide the floor to ceiling dimensions where you screens are to be located, by filling in the additional information box as shown below.
Please place any other comments such as particular delivery information here as well. All CASAREVO frames and partitions require a signature on arrival, and will never be left outside unattended.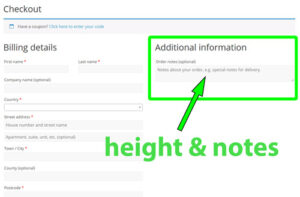 Step 1
As all rooms and interiors are different, we will need dimensions (floor to ceiling) for each post. The easiest way is to place a strip of masking tape on the floor where the frame is to be located. Carefully using a pencil make the location of the posts at 600mm intervals.
Step 2
Whilst one person is on a step ladder holding the tape measure to the ceiling, the other person will accurately measure the floor to ceiling height. Always double check this dimension as once received we will not replace items based on incorrect measurement.
Step 3
Keep these dimensions safe, and make sure you copy them exactly in the checkout box.
Once received, and the order is placed, will will contact you by phone to ensure these dimensions are correct.
If you have any questions please do not hesitate to contact the design team here, or contact the office by phone on 01476 589221 during normal UK working hours.